Plant-Based Business: Cinnaholic and Veronica Risser
Posted in: business, community, eating vegan, Plant-Based, Vegan restaurants
Tags: Cinnaholic, cinnamon rolls, Food, Lancaster, Plant-Based, Restaurants, Vegan, vegan desserts, vegan food, vegan south central pa, york pa
A vegan cinnamon bun? Vegan cream cheese icing? Vegan chocolate chip cookie dough? It was like a dream come true! I am used to more plain and simple options when it comes to vegan desserts, so I could not wait to try these! There are so many different icing flavors, like coffee, strawberry, and cake batter, and then the list of toppings goes from a bunch of different fruits to caramel sauce and peanut butter cups. The possibilities are endless! I topped my masterpiece with pretzels pieces and coconut flakes. I was in comfort food heaven, and my kids were literally crying for more. After we were done, I just had to officially meet the woman behind the counter.
Veronica Risser is the owner at the Lancaster, PA Cinnaholic franchise. I met her, and tasted my first Cinnaholic cinnamon bun, at Central Market in York, PA. She has her stand open there every Tuesday, Thursday, and Saturday from 9:30AM to 2:00PM, and her Lancaster storefront is open Monday through Saturday from 11:00AM to 6:00PM, Sunday 12:00PM to 5:00PM. On top of all that, she is also the owner at Advanced Laser Printer Service and Supplies Inc. (ALPS), she is a licensed cosmetologist, AND she has master's degrees in Accounting and Psychology. Her passions led her to many different avenues, but her main goal in everything she does is simply to help people become the best versions of themselves.
"God doesn't create losers. I want people to tap into their potential and be who they're supposed to be."
Veronica believes hurt people, hurt people, and that if you are not hurting about anything, then there should be nothing to make you want to hurt another person or animal. She learned unconditional love from animals, especially her three vegan pups. She feels that if you are not taking care of yourself, you are incapable of taking care of your loved ones. Before Veronica went vegan 15 years ago, she had high blood pressure. Her Doctor suggested a vegetarian diet to help her lose weight. She went to GNC for nutrient supplements and ended up getting some vegan recipes from one of the employees there. After that, she fell in love with eating vegan and lost 300 pounds! Since then, she grew a desire for a healthy lifestyle, so when she heard about Cinnaholic, it was a no-brainer.
Veronica saw the founders of Cinnaholic, Shannon and Florian Radke, on Shark Tank and was automatically drawn to the 100% vegan, dairy-free, lactose-free, egg-free, and cholesterol-free cinnamon buns. Her passion to bring healthier baked good options to her area pushed her to start her business. She makes the cinnamon buns fresh from scratch every morning. They use beet sugar, which is safe for diabetics, and Tofutti cream cheese as their icing base. These small changes cut the calories in half compared to a Cinnabon cinnamon roll. Based on the taste, though, you would never think they are any better for you. If non-vegans tried these, there would be no reason to choose another option. That is why there is no signage that blatantly says this is a vegan business. Cinnaholic wants meat-eaters to taste their product to change the stigma about vegan food being tasteless and boring. With all the plans for the future of Cinnaholic, especially Veronica's plans, I believe they can make a big difference in the way the world feels about vegan food.
Veronica is on fire with her plant-based business! Although we are in the midst of a pandemic, Veronica did not let that stop her. She lost many loved ones in 2019, and then going into 2020, it was a very tough time for her, but she fought through the negativity and came out stronger on the other side. She started writing down what she was grateful for in a blessings journal, and through that process, God rekindled her creativity and guided her in the direction she needed to go.
"That lockdown was a blessing. As business owners, we get so caught up in doing that we tend to lose ourselves and our vision."
Veronica is a cook at heart, taught by her very own mother who used to be a chef. She loves being vegan and sharing recipes. She also loves numbers and cares about peoples' mental health, hence the Accounting and Psychology degrees. As a business owner, she models herself after Christ when he washed the disciples' feet.
"Taking on servanthood is something every business owner should do because owning a business is about hiring more people, feeding families, and growing your employees."
Her goal with every move is to help people in many ways. Just understanding how the mind works helps her to hire people and train them individually. Everyone can't be trained or treated the same, and her knowledge in Psychology helps her to figure that out. She puts time and energy in growing her staff by teaching them, spending time with them, and cultivating their strengths. She believes training them to be better than herself will in turn teach her and help her to grow, too.
"When you think you know everything, you are feeding the ego. I want to feed humility."
A true leader sees themselves as just as human as the followers, and overall, getting rid of the idea of being a "follower" all together. Maybe we were all just meant to help and be helped.
Take a trip to Lancaster or Central Market in York to meet the wise and wonderful Veronica Risser and taste the cinnamon buns that made my kids cry. If you aren't in those areas, check out the Cinnaholic website to find a franchise location near you!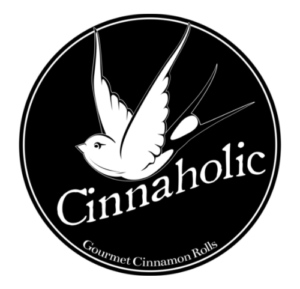 https://www.cinnaholiclancaster.com/
https://www.cinnaholic.com/locations
ABOUT THE AUTHOR – Jasmine Taylor:
My vegan journey began in 2016 when I decided to stop taking anti-depressants and anti-anxiety medications for my personal mental well-being as well as my physical health. This led me to learning about our food industry and the mistreatment of animals, which drove me to become an advocate for veganism, animals, the earth, and ultimately every human being and living creature here with us. As I learned more about this world, I learned more about myself and my passions and realized I needed to get involved. As a writer with my Bachelor's in Creative Writing from California University of Pennsylvania, I knew being a blog writer for Animal Advocates of South Central PA was a perfect fit for me. My vegan journey has guided me to my purpose as a writer as well as a musical artist. For that, I will always serve the vegan community.
Social tags FB & IG @therightpan