Defending the Innocent
We are a 501(c)3 non-profit organization based in York, Pennsylvania.
We advocate for animals by promoting veganism as a compassionate and ethical lifestyle that also benefits human health and our global environment.
Get Involved
Fundraising Project
South Central PA Vegan Guide
Help us raise money to print more of our South Central PA Vegan Guide. We've set up a crowdfunding page for this.
Any contribution is appreciated!
Oct. 24, 2017
Do yoga to help animals!
Learn More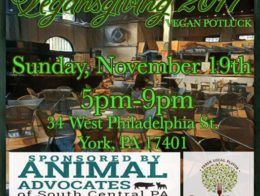 Nov. 19, 2017
Join us for the 9th Annual Vegansgiving Potluck at Central Market!
Learn More
Featured Recipe
Mediterranean-Spiced Tofu Kebabs
These flavor-packed tofu kebabs are made with summer veggies and tofu soaked in a spicy Mediterranean-inspired marinade. Cook them up on the grill or in the oven and served over spiced basmati rice.
Get the Recipe