TVP – It's What's for Dinner!
Posted in: eating vegan, meat alternatives, Plant-Based, Vegan in ScPA, Vegan Kids, Vegan recipes
Tags: Food, Plant-Based, Protein, recipes, soy, TVP, Vegan, vegan food
You remember that old advertising slogan for beef, right?  How about an updated, plant-based version that is cruelty-free and easy on your wallet!  
TVP, short for textured vegetable protein, is a protein-packed, high-fiber soy product that, when rehydrated, resembles the texture of ground beef.  Those commercial ground crumbles are good, too, but they tend to be pricey.  Most supermarkets carry bags of TVP for around $4 to $5 per bag.  And one bag of TVP goes a long way.  I can make three meals for my family of four with just one bag of TVP!   
TVP is a very versatile ingredient.  As with tofu, TVP is relatively bland on its own but takes on the flavor of whatever you cook it with.  This means you can use it in a variety of savory and even sweet dishes!  You can also leave it dehydrated and use it in place of breadcrumbs or for some extra crunch and protein in homemade granola.  TVP was the secret ingredient in my 3rd place winning chili and no one could even tell which one was mine (aka the vegan one)!     
The possibilities for TVP are endless.  Use your imagination and impress vegans and non-vegans alike with all the new dishes you can create!  Here are a few recipe ideas to get you started.  And if you're like me, TVP will be a staple in your pantry in no time!
Recipes: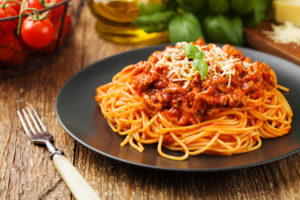 Pasta Bolognese (serves 4)
Ingredients:
1 32oz can diced tomatoes
1 6oz can tomato paste
1 cup TVP rehydrated with 1 cup water (I also added in some adobo seasoning for extra flavor)
¼ cup nutritional yeast
Your favorite herbs and spices (I used an Italian spice blend, red pepper flakes, garlic powder, and onion powder)
Salt to taste
1 box of your favorite pasta cooked according to package directions (I used Banza chickpea pasta to up the protein and make it gluten-free)
Directions:
Combine all ingredients except for the pasta in a pot and simmer for 15 minutes.  Add cooked pasta and cook for another few minutes until everything is incorporated.  Serve with fresh herbs and vegan cheese (I love Gaffney Foods vegan parm)!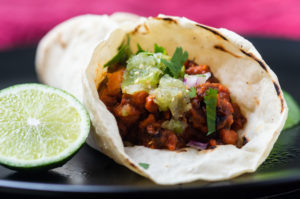 Tacos (serves 4)
Ingredients:
1 cup TVP rehydrated with 1 cup water (adobo seasoning optional)
1 15oz can vegetarian refried beans
1 cup of your favorite salsa
¼ cup nutritional yeast
1 packet of taco seasoning or use your own blend
Salt to taste
8 soft or hard taco shells
Optional toppings:  More salsa, avocado, shredded vegan cheese, hot sauce, shredded lettuce, vegan sour cream, sauteed veggies, sliced jalapenos
Directions:
In a pot, heat up all of the ingredients except for the shells and optional toppings.  Distribute equally among the 8 taco shells.  Add your toppings and dig in!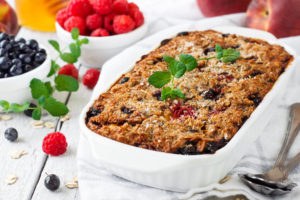 Baked Oatmeal (serves 4)
Ingredients:
1 cup TVP rehydrated with 1 cup water
2 cups rolled oats
2 cups non-dairy milk of choice
¼ cup maple syrup or agave
1 tablespoon vanilla extract
1 teaspoon chia seeds
1 teaspoon baking powder
Salt to taste
Optional mix-ins:  Chocolate chips, mixed berries, peanut butter, sliced bananas, cinnamon, shredded coconut, slivered almonds, bananas
Directions:
Preheat your oven to 350.  In a large bowl, mix together all of your ingredients including your mix-ins of choice.  Bake for 30 minutes in a greased 8×8 baking dish.  Allow to cool for a few minutes before slicing and serving.  Add additional toppings if you wish and maybe another drizzle of maple syrup or agave!
April is National Soy Foods Month, so join us at Animal Advocates of South Central PA in celebrating all the many ways that soy can enhance our diets and supplement a compassionate lifestyle. 
ABOUT THE AUTHOR:
Kim has been vegan for 4 years. A Miami native, she now lives in Hanover, PA with her husband and their two children. Kim is on the board of directors for Animal Advocates of South Central PA and loves creating vegan versions of everyday meals.