Plant-Based Business: The Vegetable Hunter and Kristin Messner-Baker
Posted in: business, community, eating vegan, Plant-Based, Veg Restaurants, Vegan in ScPA, Vegan restaurants
Tags: Food, Plant-Based, Restaurants, The Vegetable Hunter, vegan food, vegan south central pa, veganism
The Vegetable Hunter is a "revolutionary Plant-Based Cafe and Boutique Brewery showcasing vegan comfort food, creative vegetable driven quick dishes, magical elixirs, and small batch beer made with unique and fresh ingredients. Located on Restaurant Row in Harrisburg, Pennsylvania, in a comfortable and eclectic atmosphere." 
Kristin Messner-Baker is the owner and creator of The Vegetable Hunter. Here she kindly shares the beginnings of her thriving plant-based business and the struggles she is facing today as a restaurant during this difficult time in our world. These stories aren't just about the business or the money. These stories are about the people behind the businesses, the lives behind the counter, the life transitions, and all the emotions that come with it. There are so many people and businesses deserving spotlight and support at this time. This is one of them.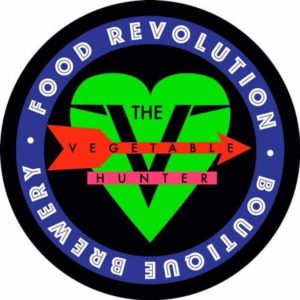 How did the idea for The Vegetable Hunter come about? Did you always have a plant-based lifestyle? If not, what made you want to go vegan? 
I started working in restaurants over 30 years ago as a teenager and always loved the pace of restaurant work and the excitement of meeting people and bringing people together. I have also always loved cooking and great food and drinks. When we opened in 2014, we were a vegetarian restaurant, and then I became vegan. At that point, I felt like 100% plant-based was the direction we had to go in to try to do as little damage as possible for health, for the environment, and for the animals. It's an evolution and a journey and we are always learning.
What motivated you to start your business, and what's motivating you to keep it going today?
It's kind of a long story, but I was practicing law. I graduated from Law School in 2001 and was practicing law on State Street. I also had this dream of owning a cafe, so I bought the building in 2005. The idea was that I would move into the building, have a small coffee shop below, and continue to practice law down the street. I ended up getting married and having kids, so we rented out the building and put off the idea until 2014 when all our tenants moved out. My husband and kids and I went in on the weekends for about 6 – 7 months and set everything up, and opened in June 2014. I am the Executive Chef and run the business every day. While there are a lot of challenges, I love finding ways to make positive things happen and love coming up with delicious vegan food and drinks.  
Why did you choose the name The Vegetable Hunter?  
We chose the name because we think it's ironic and kind of funny to put the words 'vegetable' and 'hunter' together. You don't have to hunt animals. You can turn that primal urge into capturing some vegetables (and also it was a name available for a trademark which we got.)
Why did you decide to add The Vegetable Hunter's Boutique Brewery and Upstairs at the Vegetable Hunter? 
We decided to add the brewery shortly after we opened, but it took a few years to go through the process. We finally opened our brewery in 2017 and it has been amazing. Our small batch beer is flavorful and is made with fresh and interesting ingredients. We opened our upstairs (which we call Upstairs at The Vegetable Hunter) last May to showcase small plant-based dishes in a full service atmosphere.
What has been the most rewarding thing for you and your business? 
The most rewarding thing is making food/drinks that people love and doing this in a fully plant-based atmosphere. The other rewarding thing is meeting some of the best people in the world that have come to work with us or come in as customers.
How does being the owner of an all plant-based restaurant make you feel? 
I feel like it's what I was meant to do my whole life and finally figured it out in my 40's. It's never too late to find what you love.
What do you hope for the future of The Vegetable Hunter? 
We were about to open a second location at the beginning of the summer but this crisis has put that on hold. Our plan is to open more locations and to sell vegan items online and to stores and to expand our brewery. 
What changes did you have to make in the past few weeks?  
Right now we have cut our hours back to 12pm – 2:30pm every day, and Wednesday – Saturday we reopen 5pm – 7pm. We have a limited menu which is on the front page of our website. We are doing take out. The customer calls in and places the order and pays and we bring it out to their car. We are doing delivery through GrubHub, UberEats, and Postmates.

We are now also offering Free Delivery on Saturdays to Cumberland and Dauphin Counties. Orders have to be in by 5pm on Fridays and then my husband and I drive the orders around the counties. We have been doing specials like giving a free 16 oz crowler away with a $25 order or 2 free crowlers with a $50 order. 

We are doing a Go Fund Me to help us stay in business. We are offering e-gift cards, which can be purchased online and we are opening an online store. This week we began to deliver free meals to Health Care Workers on the front line that are being paid for with donations.
How has this impacted your business?
The whole crisis has been very difficult, because like a lot of businesses, we have lost the majority of our sales. We are doing our best to keep working on new ideas so that we can be there for the long haul and so we can be there to give our employees jobs again when this is all over. We do have customers, family, and friends who have been there for us one way or another to help us get through, and we are extremely grateful for all of them.
What would you like to say to your loyal customers and those who are helping you get through this tough time? 
I want to say thank you so much. It means the world to us. Whether it's posts on social media or ordering take-out, buying gift cards, or donating in another way. Some customers keep ordering every week, some almost every day. We are so unbelievably grateful. Thank you!

Follow The Vegetable Hunter on Facebook to stay up to date!