Lancaster Veg-Friendly Spot – Root!
Posted in: Veg Restaurants, Vegan Living
Tags: Food, Lancaster, Plant-Based, Restaurants, Vegan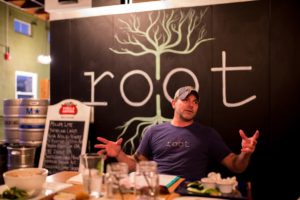 If you ask someone on the street they would agree that South Central PA is one of the last places you would expect to find a 100% vegan restaurant. We are known for rolling hills and farmland with subsets of Amish and Pennsylvania-Dutch. However, in the heart of downtown Lancaster, sits Root. Root is a 100% vegan restaurant and bar. You read that right, everything is vegan- from the delicious food to the drafts and wines. Their menu, which is revamped every 6-8 weeks, features classic bar food with a creative vegan twist. They serve vegan wings, buffalo tofu bites, a variety of vegan pizzas with homemade mozzarella, jackfruit crab cakes, a big mic, and much more. The owner of this establishment is none other than Rob Garpstas. He has been in the restaurant business for over two decades and has been vegan for about 8 years. When asked about his vegan transition Rob credits it to his father and daughter. His father was diagnosed with cancer so Rob and his family switched to a plant based diet to decrease their risk. Around the same time Rob's daughter got into animal rights and activism and ever since then the majority of the family has remained vegan; and Root was born.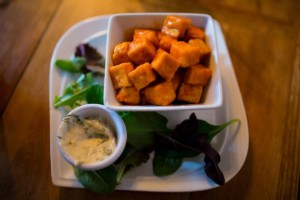 Root sounds like a dream to every vegan reading this, but how does an all vegan bar and restaurant stay open in downtown Lancaster where only 1-5% of the city is vegetarian/vegan? We asked Rob about this issue and he says 3/10 people that come into Root aren't vegetarian or vegan. Most people come to try the food out of curiosity and see what all the hype is about. Of course when they try the food they are hooked and almost always come back for more. Not only is the food good and atmosphere awesome, but Root is very wallet friendly. Rob says one of his goals was to make vegan food comparable to non-vegan food in price while still using quality ingredients and hand making many things. He works with local farms and foragers to get fresh ingredients all year 'round.
The vegan movement is about the animals at its core, and one of the best ways to advocate for animals is to show how good vegan food can be. Root does an incredible job advocating for the animals and improving the community in South Central PA. They donate to local animal organizations and host veg-friendly meetups often (including a vegan Thanksgiving potluck). We highly recommend you go in and give them a try, the BBQ wings are my personal favorite.