Harrisburg Veg-Friendly Spot – The Vegetable Hunter
Posted in: Veg Restaurants, Vegan Living
Tags: Food, Harrisburg, Plant-Based, Restaurants, The Vegetable Hunter, Vegan
We recently ventured to The Vegetable Hunter – what was known as Crave & Co.- on 2nd Street in Harrisburg to try out their vegan options and test their new brews. We were met with delicious, healthy food and some tasty beverages! All around, The Vegetable Hunter is a cozy neighborhood joint that boasts fresh, homemade dishes with friendly service and lots of character!
Check out our interview with the owner, Kristin Messner-Baker.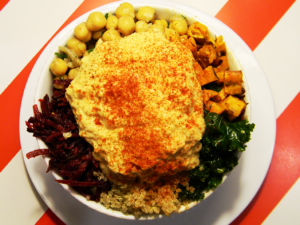 Animal Advocates: Could you give us a little background about yourself and why you decided to open an all-veg eatery?
Kristin: I worked in the restaurant industry for many years when I was in high school and college. I always loved the energy of the restaurant business with the diverse crowds of customers and great food and drinks.  I graduated from college with a degree is in creative writing and a minor in fine arts. Then I went to law school and became a lawyer. I was practicing law for several years while raising my family but always thought about owning a restaurant.  For years, I literally had reoccurring dreams about owning a restaurant so I felt like it was part of me even at a subconscious level. I always had a passion for music, art, travel, cooking, and the healthy benefits of food and felt like this was the atmosphere where I would be able to be surrounded by many of my interests and thrive. I wanted to open a vegan/ vegetarian restaurant because I am vegetarian and love making flavorful globally inspired vegan and vegetarian dishes.
My husband, John Baker, is a high school history teacher with a background in graphic arts. We decided to just go for it and started working on opening the restaurant. We fixed up the building during the weekends and then opened our vegan and vegetarian cafe in the summer of 2014 and it has been amazing. He goes back to teaching at the end of the summer but comes in to help when he can and I run the restaurant on a day to day basis. Each year we have won awards for our restaurant and food. In 2016 we won Harrisburg Magazine's Simply The Best Vegetarian Restaurant award and also Central Penn Magazine's Best Vegetarian Restaurant award.
AA: What is the reason for the name change? Does it feel like a better fit?
K: We changed our name from "Crave and Co." to "The Vegetable Hunter" to avoid complications that might arise when using a name as common as Crave in association with food and drink.  It took about a year and a half and I finally got the trademark that I needed for our new name, "The Vegetable Hunter".  People like the new name because it says something about what we do. While we take making awesome food and drinks seriously, we try not to take ourselves too seriously and we think our new name reflects that.  We want people to come in, enjoy their food and drinks, and have a good time.
AA: You are starting up a brewery. When will it be open and has it been something that's been in the works for a while?
K: Adding a brewery on to our restaurant became a part of our vision shortly after we opened in 2014 and we were fortunate to have had the time to continue to develop our restaurant while we were in the licensing application process.  We have always had homemade drinks on our menu. (We currently make our own homemade root beer, a variety of shrubs, and many flavors of kombucha.)  We are incorporating the same idea of great flavor and unique ingredients in our brewing that we have always used with our other menu items. Opening the brewery is a way for us to add new amazing tasting beverages, but this time with alcohol. We also like how unique it is that we are a vegetarian and vegan restaurant that brews its own beer. We started quietly selling our beer in February 2017 but we are going to have our Boutique Brewery Launch Party on April 21, 2017.
AA: Is your customer base mostly Harrisburg locals who are vegetarian and vegan? What kind of reactions do you get from people who aren't used to eating this way?
K: Our base is mostly locals and we couldn't survive without their loyal support. But there are customers that come in from all the towns and counties around us and from places a little farther away like the York and Lancaster areas. We also meet a lot of awesome people traveling through the state and getting off the highway because they are seeking out vegetarian and vegan restaurants.
People that are vegan, vegetarian, carnivores and omnivores, etc. enjoy our food. We do have customers that have never tried a plant based meal and are a little skeptical but end up really enjoying our food and coming back for more.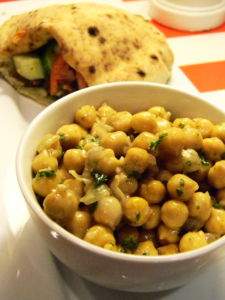 AA: Big picture – do you feel as though people are becoming more open to eating plant-based? Do you feel like change is happening as far as people becoming more concerned with how our dietary choices impact others (animals, the environment)?
K: I do think that more people are trying vegetarian and vegan cuisines and diets because it's so accessible. People also have access to so much information now so I think it's much more mainstream to be aware of the health benefits, the benefits to animals, and the environmental benefits than it was in the past.
At our restaurant, we don't push an agenda on anyone because we are just here as a healthy option for people who want vegetarian and vegan food and for anyone who just enjoys good homemade food. I think that we make a positive impact on people just by existing as a plant based restaurant option with great food and drinks.