Grass Roots and Hometown Hearts
Posted in: Activism, Vegan in ScPA, Vegan Living
Tags: animal advocacy, Give Local York, Local, nonprofits, south central pa, vegan south central pa, veganism, york county
As we prepare to welcome Give Local York 2019, let's take a moment to reflect on just what it means to channel your efforts at Home. For most of us, the idea of charitable giving is second nature. Many national and international organizations thrive off of the generosity of donors, and it is this financial support that allows advocacy groups to push for change on a global scale.
But, consider this. Right here in York County we have the opportunity to not only bolster the operating budgets of local charities, non-profits, and outreach organizations that directly benefit the community…we can actually get our hands dirty too!
While we may feel a broad sense of accomplishment in aligning our wallets with groups that promote our values…how many of us can say we've directly witnessed where those dollars go when it comes to giving on a regional or national scale? Not many. With Give Local York that doesn't need to be the case. Animal Advocates of South Central PA, and so many groups like us, focus on leading change right here in our own backyards. We partner with regional sanctuaries and local groups to provide volunteers as needed. Without volunteers many of these local endeavors could not survive. We need the hearts AND hands of our neighbors to truly make a difference. What could be more edifying than to know you physically and/or financially played a role in the improvement and well-being of your community? Together we can change lives.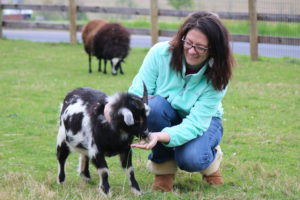 When you make the commitment to get involved wonderful things happen. Yes, you bring change to those in your midst, but the greatest change is in YOU. There is something truly satisfying about giving of yourself. The joy in knowing you made a difference. The soul-warming sensation when you lock eyes with a grateful animal. It's powerful and often life-saving (literally in the animal's case).
So please, join our efforts during this giving event, and beyond. At Animal Advocates of South Central PA our mission is to spread compassion for animals in a peaceful and respectful way. We believe change comes from an understanding and willingness to do better. Let's do better together.  
Larlyn Muller