Central PA's First VegFest Was a Huge Success!
Posted in: Activism, Vegan Living
Tags: Lancaster VegFest, Tabling, VegFest
Lancaster, Pennsylvania is famous for its Amish citizens and its farmland. With that comes a reverence for small-scale farming and a sort of deliberate forgetfulness about how farmed animals are actually treated. Growing up in Lancaster, it felt like a small town, in that everyone knew everyone and everyone that lived in Lancaster was born there too. Only recently Lancaster City is becoming known for its art and food scene. Lancaster is growing, and now you can walk around downtown and not know anybody! That sounds silly, but as Lancaster native, it really is striking.
Slowly but surely, vegetarianism and veganism is cropping up here. During my childhood, vegetarian options were very few and far between. I became vegan in my early 20's, in the early 2000's. We miraculously had a vegetarian restaurant for a short time (they catered my wedding!) but until recently, being vegan here was not so easy. We now have a vegan restaurant and many ethnic food establishments which boast a multitude of vegan options. Of course we're nowhere near the vegan-friendliness of a big city (which is to be expected) but I'm hopeful that we will get there!
Lancaster had its first VegFest on Saturday, June 3rd at Musser Park downtown. We had amazing weather and the turnout was huge! I could never have imagined that we'd have a VegFest here, much less have thousands of people show up to enjoy it.
The day started at 12 noon but goodie bags were promised to the first 100 festival-attendees in line so there was a line dozens of people long by 11 am. There were tons of tents set up including vegan and animal advocacy organizations like Animal Advocates of South Central PA, the Lancaster Vegetarian Society, the Humane Society, and United Poultry Concerns. Animal sanctuaries were present such as Woodstock and Indraloka, and vegan food vendors, like Vegan Treats, COB Vegan Baked Goods, Mother Nature Food Truck, Heavenly Hot Dogs and more. You would not believe how popular they were! The lines were hours long, and all vendors ran out of food! I could never have guessed that that would happen in Lancaster.
As a board member I unfortunately couldn't volunteer at the Animal Advocates tent because I was with my kids but I saw that the minute the event started, people were crowding their tent as well as many other tents too. It was just fantastic to see. Being vegan has often been isolating for me- I rarely meet a fellow vegan and we don't often advertise ourselves (regardless of the joke). It's amazing to be at an event designed for vegetarians and vegans and in Lancaster, no less, but I think the really incredible thing is knowing that most of the thousands of people at VegFest were veg-curious. What an opportunity for animal rights organizations and a great way for vegan food vendors to show how awesome vegan food is! I'm sure Lancaster restaurants took notice too- vegan food options are needed and lucrative.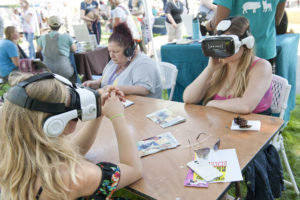 I loved being in the big crowd, seeing all the vegan shirts people were wearing, seeing the huge lines of people waiting for vegan food and enjoying it, seeing all the wonderful animal organizations there to spread compassion for animals. It was a great event and we are all looking forward to next year.
Huge thank you to all the volunteers that made Lancaster VegFest happen.