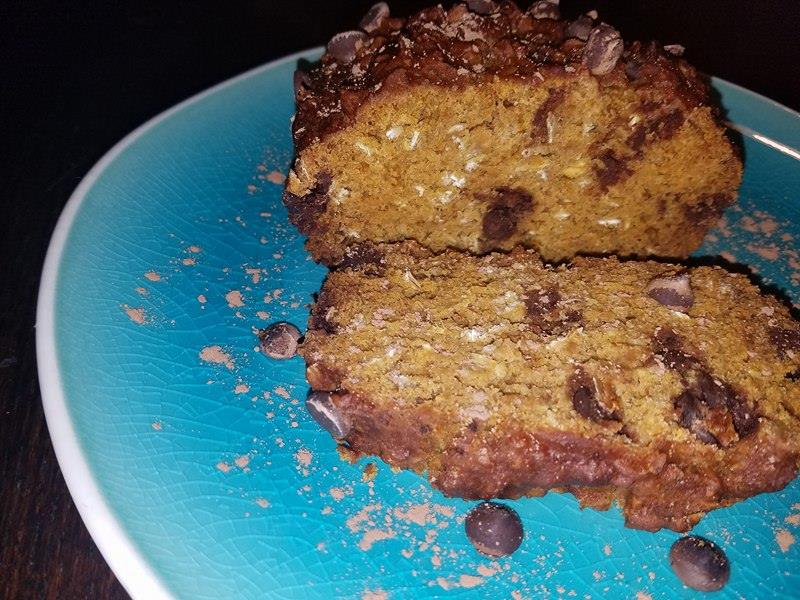 Ingredients
2

Vegan Eggs*

1/4

Banana, mashed

1/4

cup

Melted Coconut Oil + more for greasing pan

1/4

cup

Maple Syrup or Agave Nectar

3/4

cup

Pumpkin Puree

2/3

cup

Packed Brown Sugar

1/2

teaspoon

Sea Salt

2

teaspoons

Baking Soda

1/2

teaspoon

Ground Cinnamon

1 1/4

teaspoons

Pumpkin Pie Spice**

1/2

cup

Water

1

cup

+ 1 Tbsp Rolled Oats

1 3/4

cups

All-Purpose or Gluten-Free Flour Blend***

1/2

cup

Vegan Chocolate Chips

----------

* Either Bob's Red Mill Egg Replacer, The VeganEgg or flax eggs (1.5 Tbsp ground up flaxseed + 4 Tbsp water)

** Combine 1/2 tsp ground cinnamon, ¼ tsp ground ginger, ¼ teaspoon ground nutmeg, 1/8 tsp ground allspice 1/8 tsp ground clove

*** Combine 1 1/4 cups brown rice flour, 1/4 cup potato starch, 2 Tbsp cup white rice flour, 2 Tbsp tapioca flour
Instructions
Preheat oven to 375F.
Prepare vegan eggs in a large mixing bowl.
Prepare a 5x9 loaf pan by lightly greasing with coconut oil.
To vegan eggs add the banana, pumpkin puree, agave or maple syrup, and melted coconut oil - whisk to combine.
Next add brown sugar, baking soda, salt, spices - whisk.
Add water and whisk again.
Add oats, flour and most of the chocolate chips - stir. If it appears too wet, add in another couple Tbsp of oats. It should be semi-thick and pourable.
Scoop into loaf pan and top with the remaining chocolate chips.
Bake for 45-50 minutes, or until golden brown and a toothpick inserted into the center comes out clean.
Remove from oven and let set in pan for at least 20 minutes and then gently transfer to a plate to cool.
Let cool completely before slicing, preferably several hours, otherwise it can be a bit crumbly.
Once cooled, store in a covered container or cover with plastic wrap at room temperature to keep fresh. You can also freeze to keep fresh for up to one month.